"Gold is constant. It's like the North Star," – Steve Forbes
"Money is gold, and nothing else." – J.P. Morgan
Hi everyone! This article covers some of the main reasons to invest in gold, the people who would benefit most from investing in gold, and my personal recommendation for the best and safest place to make your investment.
Do any of the Bullets Listed Below Apply to You?
You are looking for safe assets to add to your retirement account.
You are concerned with how inflation or deflation could affect you financially.
You are worried about the financial or political health of your country.
You have already invested in at least one stock that is not related to gold
If any of the above points apply to you, you may want to consider making gold a part of your portfolio.
If any of the following bullets apply to you, you may want to look into other investment opportunities, as gold investment probably isn't what you're looking for.
You are looking for a way to get rich quickly.
You want to invest in something volatile that has the potential to spike in value, even though it is risky and could result in you completely losing a large percentage of your investment.
In this post, I will share with you everything you need to know to help you decide if an investment in gold is right for you.
Why are so Many Investors Becoming Gold Buyers?
For years gold has been one of the most popular investment choices among major investors, people who are new to investing, and for people who are looking to add a safe option to their retirement accounts. Here are the top 10 reasons why people choose to invest in this precious metal:
Gold Allows for Portfolio Diversification
It is very well known in the investing world that it is significantly safer to have a diverse portfolio, as opposed to a portfolio that isn't diverse. Having a portfolio that is not diverse is extremely dangerous and makes your portfolio way too volatile to count on as a source of savings for the future.
Gold generally has a negative correlation with stocks and bonds. This means that if the prices of stocks and bonds were to decrease, the price of gold would most likely increase. This is a great way for an investor to hedge his or her risk.
If you add gold to a portfolio that already contains stocks or bonds, if those stocks or bonds decrease in value, your gold is very likely to increase in value, which helps cancel out the negative effects of a recession or a drop in stock prices.
Gold Protects Investors from Inflation
Economies often go through very long periods of inflation. There is a major aspect of inflation that negatively affects the majority of people.
This negative aspect is that when there is inflation, the price of just about everything increases, while the income of individuals remains approximately the same.
This significantly decreases the purchasing power of working individuals.
Fortunately for gold owners, they do not have to worry as much about this.
Here's the reason why:
Gold drastically increases in value during times of inflation.
This means that if inflation occurs and your cost of living increases, the value of the gold you bought will also increase, allowing you to make up for the increases in your expenses.
Gold Protects Investors from Deflation
Believe it or not, gold can also protect you from the opposite economic condition – Deflation. Gold is far less volatile than the majority of investments. Yes, it's possible that if the economy experiences deflation that the value of your gold will decrease. However…
Its value will decrease significantly less than most other things you would invest in.
In times of deflation, gold has shown that it can actually increase the purchasing power of people who invested in it.
Here's the reason why:
Unlike inflation, when deflation occurs, the cost of living decreases.
This means that just about everything you typically spend money on will be slightly cheaper.
Luckily for gold investors, their gold does not decrease in value nearly as fast as the vast majority of other investment options out there.
This can lead to a major increase in purchasing power since their investment did not lose value at a fast rate like everything around them did.
A great example of this is the Great Depression. Although the value of gold decreased during this period, it did not decrease nearly as much as the majority of stocks that were being purchased, which led to gold owners having a much higher purchasing power compared to most of the people around them.
It's very possible that we never experience deflation to quite that extent ever again. However, economic recessions are likely to occur in the future, and there are very few ways to prepare for this that are more effective than purchasing gold in advance.
There is a Tremendous Demand for Gold
There has always been a huge demand for gold. Both during times of economic prosperity and times of economic disaster, the precious metal has always been viewed as an extremely valuable commodity.
Since the demand for gold is increasing, any gold you invest in now will most likely steadily increase in value over the coming years.
Demand for gold isn't only increasing in the United States. There has been a large increase in demand for gold in emerging markets that use the metal more frequently than most people in the U.S. do. Gold is a larger part of the culture in many of these countries, and as their economies continue to develop, the amount of gold they demand will also increase.
This could lead to very large increases in the value of gold moving forward.
There is a Limited Supply of Gold
The most fundamental concept of economics is the idea of supply and demand. When supply increases, demand decreases. When supply decreases, demand increases.
In this equation, gold fits into the category of a commodity with a limited supply.
It takes years to produce gold from new gold mines, which leads to periods of time where the quantity of gold is low. Gold is both very valuable and finite, so the demand for gold will continue to increase, but the supply most likely will not be able to increase at the same rate.
When this happens, the price of gold increases, due to supply and demand.
This doesn't work the same way with stocks and bonds, since they are not usually physical products.
Gold Thrives when there is Political Unrest
Since gold is considered one of the safest investments, it typically does very well in times where there is political unrest. The reason for this is that when people are worried about things going on in the political world, they are more likely to invest in what is arguably the safest commodity. When more people invest in gold, the value of the gold already owned by gold investors increases.
This means that if you are someone who is concerned with the current political atmosphere we live in, this is probably a good investment choice for you.
The reason for this is that other people most likely feel the same way, and gold has been known to increase in value when there a decrease in confidence in the government.
People Buy Gold when the Value of the Dollar Decreases
During times where the dollar of a given country loses value, people often choose to purchase gold because it is considered a very safe commodity. In the years leading up to the most recent U.S. recession, the value of the U.S. dollar decreased in comparison to other currencies.
However…
Gold nearly tripled in value during this time period.
Tons of people wanted to buy gold due to the economic uncertainty that was present in America, but there was a limited supply. This led to major increases in the price for gold.
People continue to view gold as one of the safest investment options, so if we were to see another period of time where the U.S. dollar decreases in value, investors who had already purchased gold would most likely be rewarded with a significant increase in the value of their investment.
Gold Saves Investors when there is Economic Crisis
Economic crises sometimes occur for a variety of reasons. It is important to have an asset such as gold to hedge your other investments in case a crises occurs. Here's a simple version of how this works:
When an economic crisis occurs, people look for safe investments.
Gold is regarded as one of the safest investments, so many people purchase it.
As a result of a high increase in demand and supply that is not increasing nearly as fast, the price of gold increases.
As a result, people who had already purchased gold now own an asset that is much more valuable than it was when they purchased it.
   9. It is Easy to Convert Existing Retirement Accounts to Gold
It is very common to convert preexisting IRA, 401(k), or other retirement accounts to gold. This is a very simple way to reap the benefits of owning gold if you are someone who has already created a retirement account. Doing this has become increasingly popular in recent years.


It is also important to note that converting some of your existing retirement account to Gold IRA is a tax-free process.
I will cover this topic much more thoroughly later on in this post.
You Will Not Lose Your Investment
An investor's worst nightmare is that a company they have invested in will go bankrupt. Throughout history we have seen quite a few instances where this has happened, causing investors to completely lose large sums of money because of the actions of companies that they have absolutely no control over.
A well-known example of this is when Lehman Brothers filed for bankruptcy in 2008.
Fortunately, this is not a risk associated with gold investment. It is impossible for a tangible asset such as gold to go bankrupt.
Where is the Best Place to Invest in Gold?
Now that I've covered the benefits of investing in gold, it is very important to cover how to purchase it in the safest way possible. There are two main ways in which people purchase gold:
Small gold shops
Large Gold Investment Companies
Let's look at the pros and cons of each of these.
Small Gold Shop
Pros:
Many towns have gold shops, jewelry stores,, or we buy gold locations, so it's relatively easy to find one nearby.
You have the opportunity to speak with someone working at the store to talk about your purchase.
Cons:
The vast majority of these shops sell gold that is meant to be used for jewelry, collection or decoration, not investing.
Many of the "we buy gold and silver" shops that also sell gold and silver are not as reliable as larger gold investment companies.
These shops do not have anywhere near the same amount of credibility as the top large gold investment companies.
You might see an online listing for a gold shop that says something along the lines of "14k gold near me". This is typically not what you look for when it comes to gold investment, as this is often associated with gold jewelry.
It is very difficult to determine if you are paying a fair price for your gold.
Large Gold Investment Companies
Pros:
The top large gold investment companies are very credible.
It is extremely easy to purchase gold online. It can be done even quicker than if you went to a store to buy it.
You will pay a fair price for the gold.
This is generally regarded as a much safer and more professional option.
Cons:
Some people prefer the experience of speaking with someone in person before making any type of investment. (There is a large gold investment company that is very good about this. I will discuss this later in the post.)
Overall, I believe that investing in gold from the safest source possible should be of the upmost importance.
Investors purchase gold because it is regarded as one of the safest investment options, so why jeopardize this by buying it from an unreliable source? This being said, here is my recommendation for which company to buy gold from:
Which Company to Purchase Gold From
I have done extensive research on which is the best company to purchase gold from. After spending countless hours researching the company that I personally feel is the safest, most reliable, and most cost-effective option to invest in gold with, I was able to find a clear winner.
This company is American Bullion.

Here are the top reasons why I believe that American Bullion is the best option for anyone looking to buy gold to either add to their retirement account, or to own the physical asset.
Outstanding Trust Ratings
Investing in your future is not something to be taken lightly. When you invest your hard-earned money in gold or add Gold IRA to your retirement account, you want to know that the company you are doing this with is trustworthy and has an impeccable reputation.
This is why I would feel the most comfortable purchasing gold with American Bullion. Over the years, this company has repeatedly proven that it is one of the most trustworthy investment companies.
Here are some major organizations that have given American Bullion outstanding reviews.
TrustPilot
BBB Accredited Business
Business Consumer Alliance
TrustLink
National Ethics Association
American Bullion has memberships with…
United States Mint
Royal Canadian Mint
Norton Secured, powered by Verisign
TRUSTe
Numismatic Guaranty Corporation (NGC)
American Numismatic Association (ANA)
Professional Coin Grading Service (PCGS)
Industry Council for Tangible Assets (ICTA)
I've also added a little more information about the reviews from BBB Accredited Business and Business Consumer Alliance.
American Bullion received an 'A+' rating from BBB Accredited Business, which is the highest possible rating they award.
According to Business Consumer Alliance, "American Bullion is rated with AAA which is an exemplary rating. This means that nothing in their files causes them to have any doubt about the company's reliability."
Best Customer Service
After researching American Bullion's trust credentials, I wanted to make sure that it was a company that offers incredible customer service.
Customer service is extremely important for investing, because having the opportunity to speak with experts keeps you on the right track and helps you decide which the best investment route is for you.
I was very impressed with American Bullion's customer service.
On American Bullion's website, the company states, "We offer excellent service and value by dealing honestly, ethically, and fairly with each and every valued customer."
I could not agree more with this statement.
When you call American Bullion to inquire about gold, you speak with an expert gold consultant.
Unlike some of their competitors, when you speak with an American Bullion gold consultant you are not pressured into purchasing gold. Instead you speak with an expert on the topic who is actually interested in helping you develop a plan that works best for your needs.
I can't emphasize enough how important this is. There are other companies that have been known to pressure you into making larger investments than what you're comfortable with, but American Bullion is not at all one of these companies.
Wide Array of Products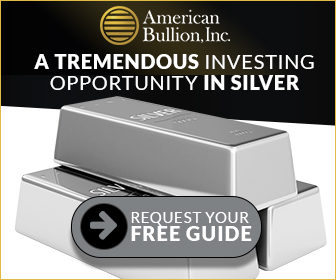 Although this article primarily focuses on gold, American Bullion also offers a large amount of different silver, platinum, and palladium products in coin or bar form. For the full list of products that American Bullion offers, you can click the picture of the silver bars to the left.
Perfect for People with Existing Retirement Accounts


American Bullion is regarding as a leader for gold investment companies for people that already have some sort of retirement account. They specialize in converting the following into precious metal investments:
Former 401(k)
Preexisting IRA
Many other types of retirement accounts
If any of the above bullets apply to you, American Bullion will allow you to speak 1-on-1 with an expert consultant about making this transition.
If making this transition is something that you interested in but uncertain about, I would advise calling American Bullion and asking a few questions.
If you decide you would like to convert some of your existing assets into a precious metal then they will make the process very easy for you. If you decide that you would rather not make the transition, they will not try to pressure you into changing your mind.
Note: If you do not already have a retirement account, you can still talk to a consultant about starting one with American Bullion by clicking this link. Even if you're unsure if you'd like to start an account, American Bullion consultants are happy to give their advice, and it can never hurt to get some free advice from an expert in the field.
Very Powerful Endorsements
Here are just a few of the people who have endorsed American Bullion:
Mike Gallagher – Politician and radio host
Lou Dobbs – Anchor of Lou Dobbs Tonight on Fox Business Network
Laura Ingraham – Radio talk show host and political commentator
Michael Medved – Author, radio show host, and political commentator
Hugh Hewitt – Lawyer and radio talk show host.
Great for People Who Want to Own a Physical Asset
If you're someone is would like to own gold, silver, platinum, or palladium in bar or coin form, American Bullion most likely has what you are looking for. The company is a leader in physical precious metal assets.
You can also speak with an expert about physical precious metal assets. The phone number for this can be found by clicking this link.
What Others are Saying About American Bullion
"Working with my agent and the team is a pleasure. Everyone has a positive, upbeat attitude; always willing to answer any questions. My agent's knowledge and enthusiasm makes him a joy to work with. American Bullion will answer any questions you have about precious metals and guide you through the investing process with easy." – Mark A.
"While working with american bullion i experienced quite a great range of emotions. My requests for assistance with money transfers and knowledge of gold investing ira accounts were handled with great professionalism. The concerns i had related to purchasing gold and storage of my precious metals were handled very well thru all levels of american bullions management. My level of satisfaction with this very well run institution is five star. My daughters inheritance is in great hands with american bullion. I recommend them highly with great confidence to prospective clients." – George K.
You can find more reviews of American Bullion by clicking here.
FREE GOLD INVESTMENT GUIDE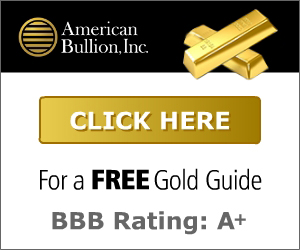 Any investment that you make with your hard-earned money is a very serious decision. It is for this reason that I highly recommend downloading American Bullion's Free Gold Investment Guide.
The guide is 100% free and covers everything you need to know about whether investing in gold is the right decision for you.
It's possible that you might read it and decide that you would like to go in a different direction with your investment, but you should definitely give it a read to see if it's the right investment for you.
You can click the image to the right to access this Free Gold Investment Guide.
FAQ
Where is the Cheapest Place to Buy Gold?
Gold investment prices are about the same for each gold investment company, so price typically isn't one of the main factors people consider when decided which company to purchase gold from. As a result of this, customer service and trust ratings are most important when deciding which gold investment company to pick. This is why I recommend American Bullion. Their customer service is impeccable and their trust ratings are as high as they can possibly be.
How much is Gold Worth?
This varies based on the quality of the gold. It also slightly changes from day-to-day. For the sake of accuracy, you're better off checking for gold's updated worth by clicking here.
Thank You!
I just wanted to take this opportunity thank you for taking the time to read this article.
I am very passionate about smart investing and would really appreciate it if you could help spread this to other people who might find this useful. If you could take a few seconds to share this post, I would be very grateful.
If you would like to be notified whenever we post new content, please add your email to the list.
A lot of the content moving forward will be trending gold and investment tips, so it will definitely be beneficial for you to be notified as soon as it is posted so you can stay ahead of the curve.
Thanks again!